We Believe In Giving Back To Others.
That's Why We Donate A Portion Of Our Sales to Worthy Causes and People in Need.
3 Ways Wednesday's - New Arrivals Edition
Look 1: Spring Jumpsuit
Look 2: Spring Jumpsuit with Front Tie Top
Look 3: Spring Jumpsuit with Printed Blouse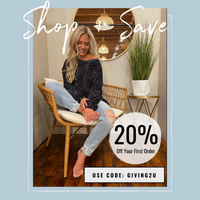 Don't Miss It!
Use code "GIVING2U" to receive 20% off your first online purchase! *excludes sale items
Shop Now
Who Can We Help Next?
Share with us about People in Need or a Worthy Cause by emailing us at thegivingclaremont@gmail.com.
Follow Us On Instagram @thegiving_claremont
Location
The Giving
526 W 1st St,
Claremont, CA 91711
909-964-0146
Mon- CLOSED
Tue- 12-5
Wed- Thur.12-6pm
Fri-11-8pm
Sat -10-8pm
Gift Cards
Gift Cards are for In-Store Purchases Only.